2019-2020 NBA Season Predictions
By Sophia Cook
---
The 22nd of October 2019 is upon us and a buzz has returned to the Association. The words of the day are championship aspirations as 74th season on the NBA fast approaches. Up to a dozen, teams enter 2019-2020 with genuine hopes of title contention. Multiple superstars have switched alliances. The dominance of the Golden State Warriors is no more (thanks in part to Draymond Green's infamous on-court spat with Kevin Durant). And just like that parity is back.
It's been years since there's been this type of excitement around the league. NBA fans across the world are gearing up for what should the most fiercely competitive seasons we've seen in a while. Stay up to date with the lay of the NBA landscape for the upcoming campaign.
Atlanta Hawks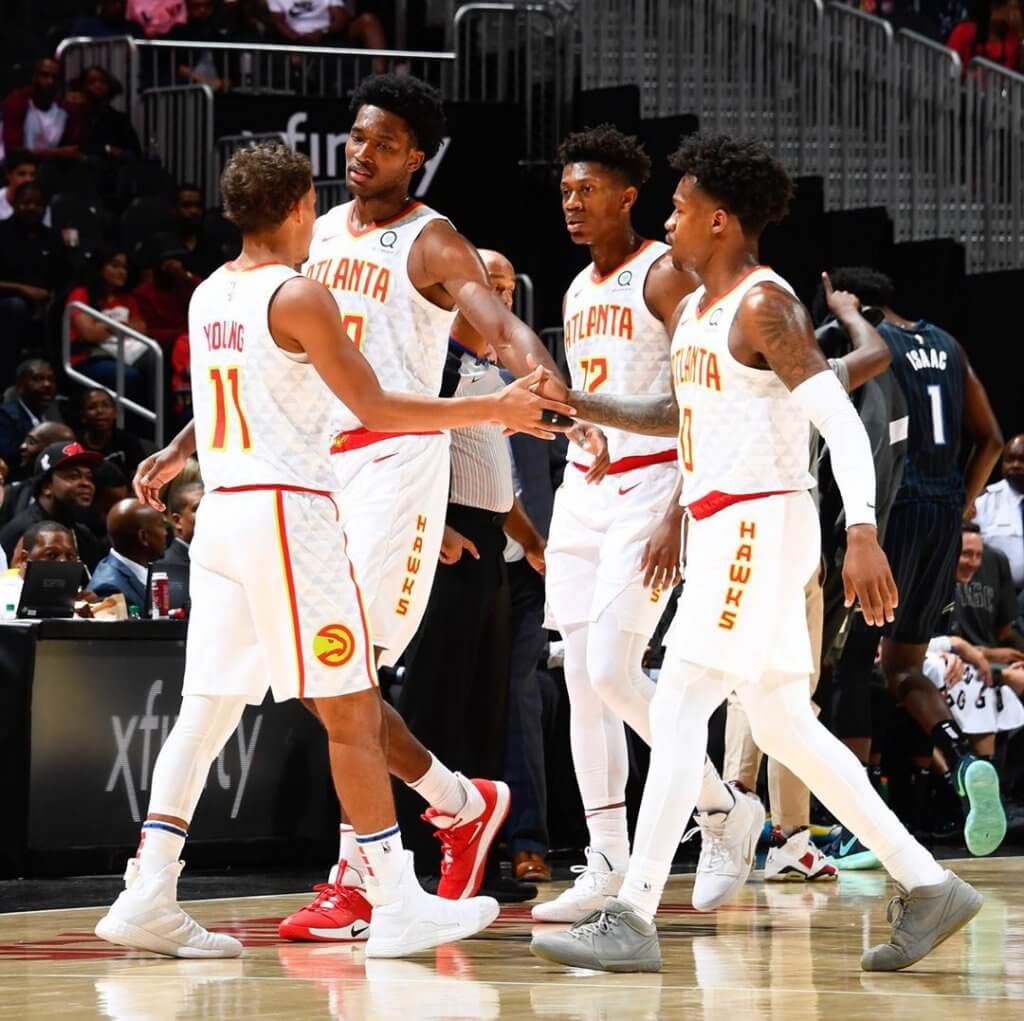 Projection – Will miss the playoffs
The Hawks took a few steps in the right direction in 2018 – 2019 led by their young core of promising rookie point guard Trae Young, power forward John Collins and Kevin Huerter – a sharp-shooting rookie guard out of Maryland who shot 38.5% from 3-point range. Their defensive woes should see them finish in the bottom half of the Eastern Conference yet again, but with 3 talented pieces, all still on rookie deals, they could be competing for a playoff spot in a few years if the organization makes the right moves. This year their season will end at the start of April though.
Boston Celtics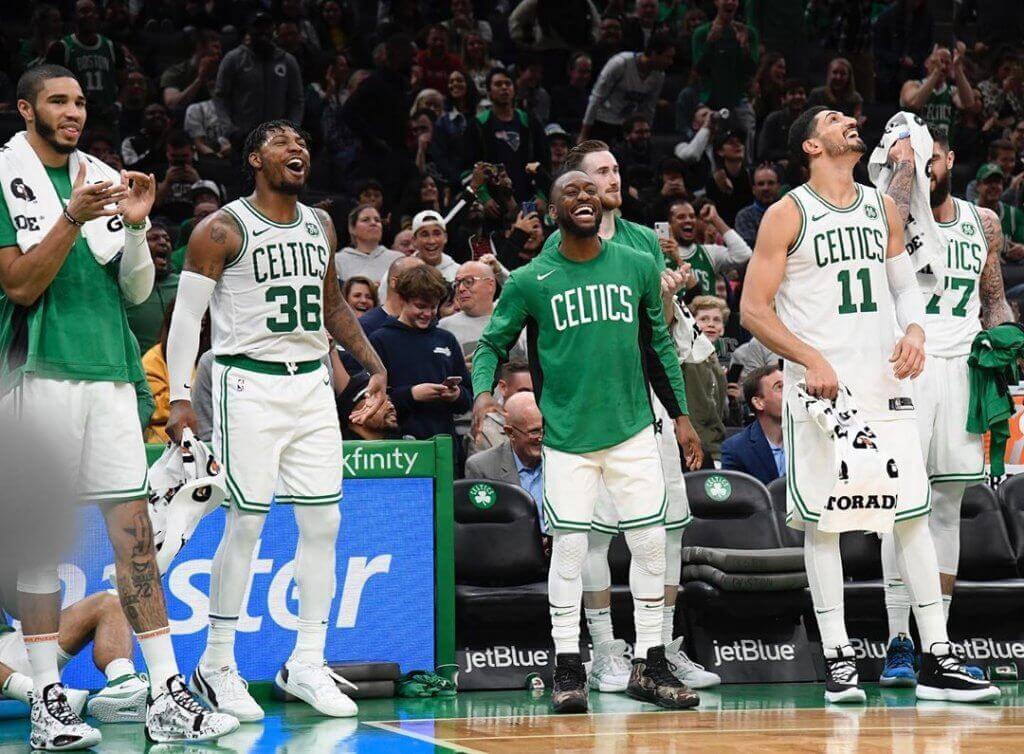 Projection – Championship contender
Will Kemba Walker prove to be a better locker room fit than Kyrie Irving who joined the Brooklyn Nets in free agency? Can the talented Celtics re-find the form that saw them reach the Eastern Conference finals 2 years ago without Hayward and Irving? While Kyrie's leadership skills have been questioned to no end, his level of talent is undeniable. When you couple his departure with that of Al Horford and a Gordon Hayward who hasn't been able to re-ignite his All-Star form from Utah there may be cause for concern. They still have a solid roster, with a rising star in Jayson Tatum, an All-Star Kemba and an up and coming head coach. That will be enough to see them competing for a top 4 spot in the East.
Brooklyn Nets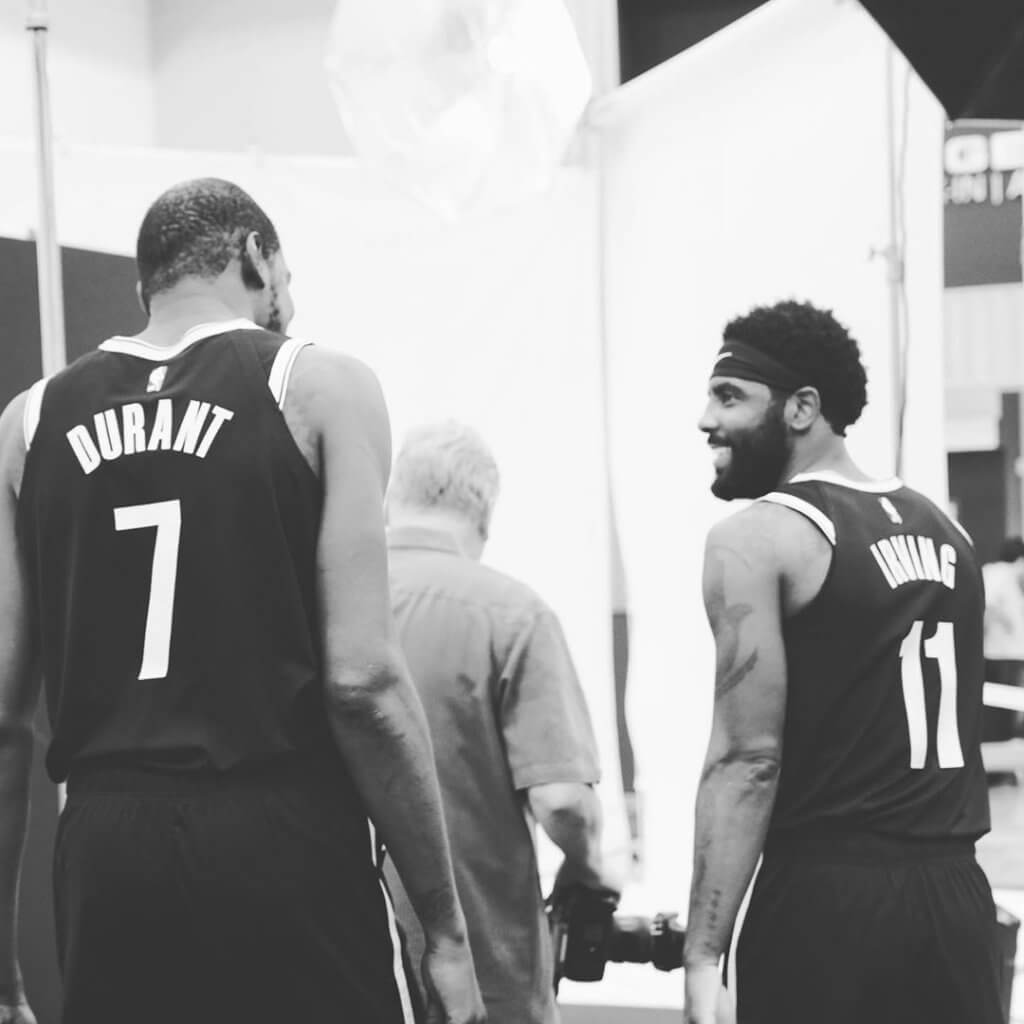 Projection – Championship contender
Brooklyn added Kevin Durant and Kyrie Irving to a roster that finished above .500 and made the playoffs last year. Factor in Joe Harris who knocked down a league-leading 47.4% of his shots from 3-point range, Jared Allen a defensive stalwart and Spencer Dinwiddie a quality second option as a ball-handler, it will be interesting to see how the rest of the group fairs as they await the much-anticipated return of Durant. He is likely to miss the year with a ruptured Achilles tendon suffered in his final playoff run with the Golden State Warriors but will make this team an instant contender as soon as he's healthy again.
Charlotte Hornets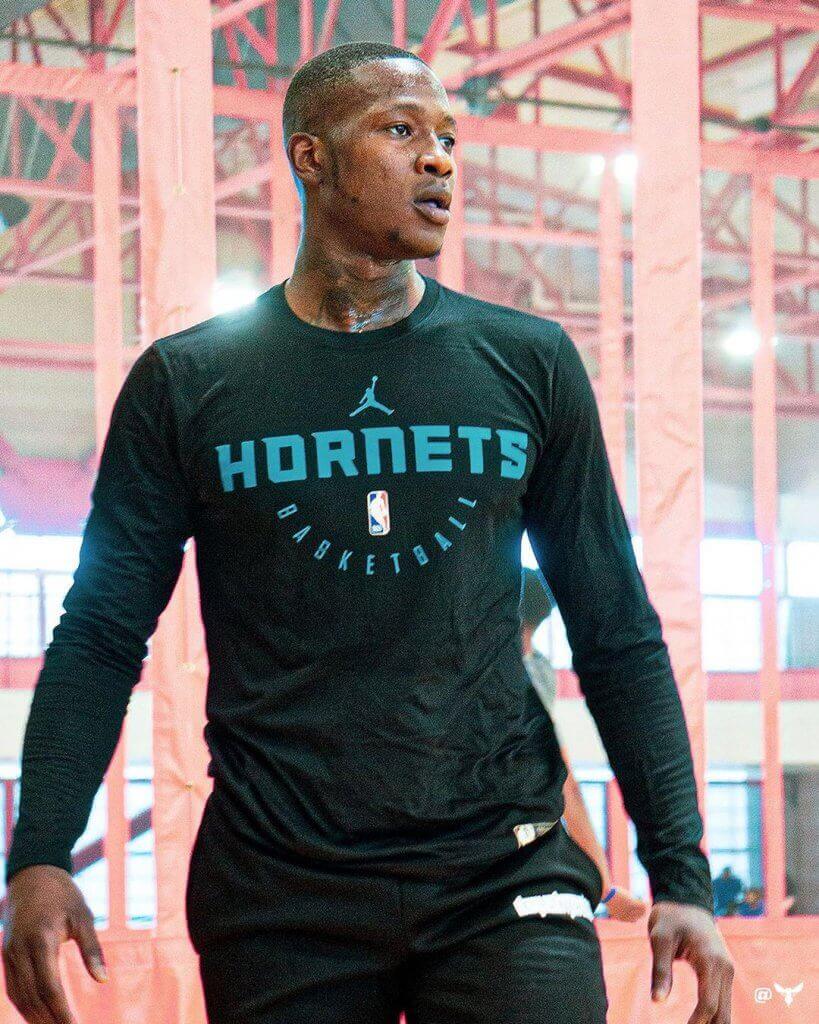 Projection – Will miss the playoffs
The Hornets are the epitome of a franchise stuck in eminent mediocrity. Michael Jordan the team owner hasn't come close to living up the legendary status he built up as a player. Their continuous spiral of bad moves was perfectly summed up by letting a durable Kemba Walker – who averaged nearly 26 points per game and was an All-Star, while playing in all 82 games – walk away for absolutely nothing in return. Having just missed out on the playoffs last year and making Terry Rozier their biggest offseason acquisition, it will not come as a surprise if the Hornets take a step backward in 2019 – 2020.
Chicago Bulls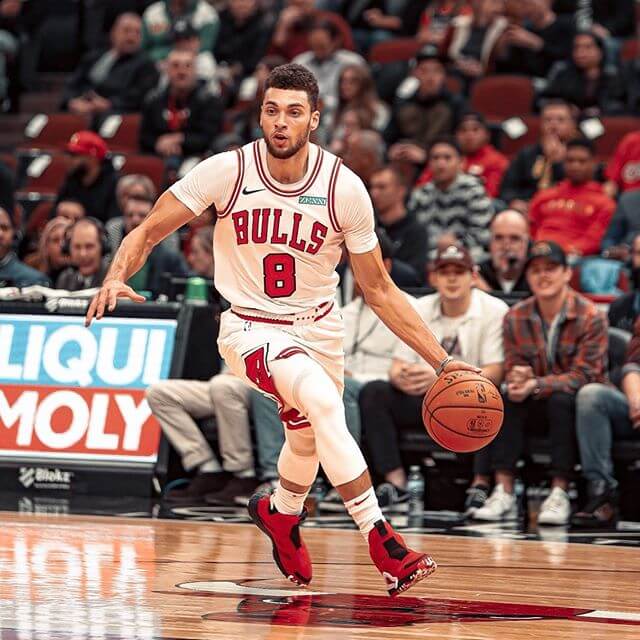 Projection – Will miss the playoffs
Only 3 teams in the league had a worse record than Chicago last season but they'll be looking to have better luck with injuries this year. Setback after setback hampered their last campaign and didn't give the team any chance to gel at all. The high-flying Zach LaVine proved to be more than just a dunk-contest sensation but will need a lot of help for the Bulls to become relevant again. Having finished in the bottom 5 in offense and 20 out of 30 in points allowed it will be another uphill battle in the windy city this coming season.
Cleveland Cavaliers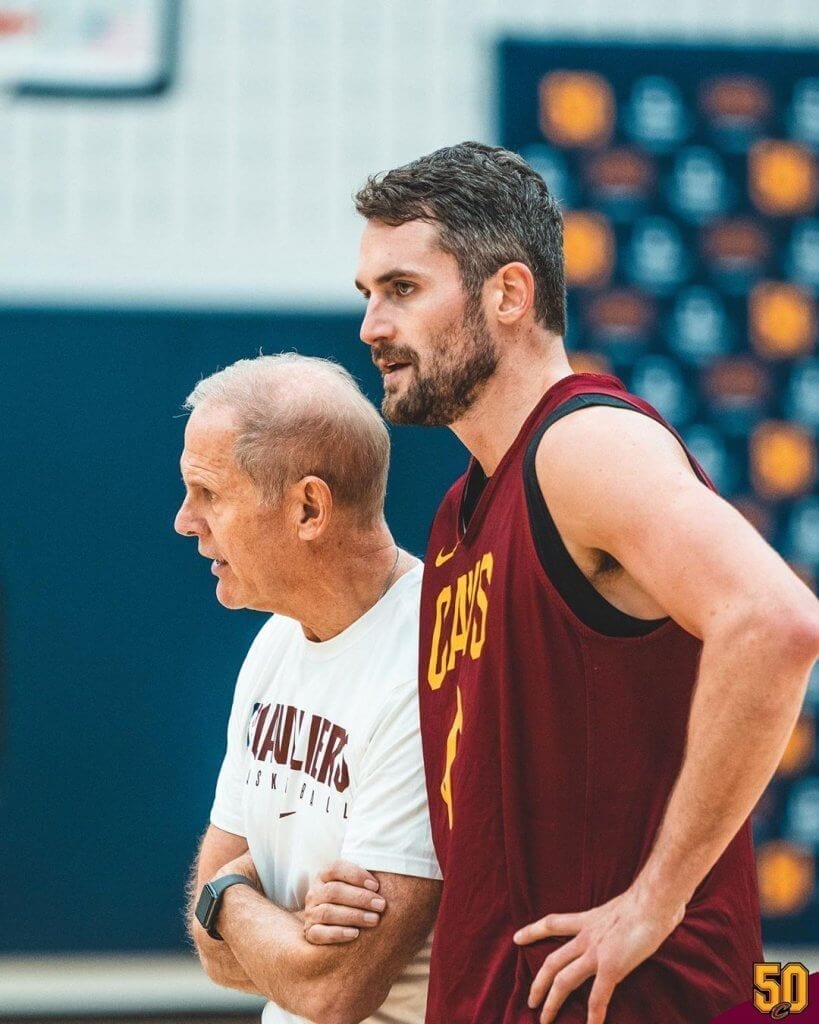 Projection – Will miss the playoffs
The Cavs tied for the second-worst record in the league. For the second time after a Lebron James departure, they have proven to be a complete mess. Their key additions came by way of 3 first-round picks in the 2019 draft. This is a team in full rebuild mode, that will also welcome back the veteran presence of Kevin Love, who returns from injury. With a first-year head coach in John Beilein added to that mix, it will be no surprise if the Cavs have some of the best odds to land a lottery pick in 2020.
Dallas Mavericks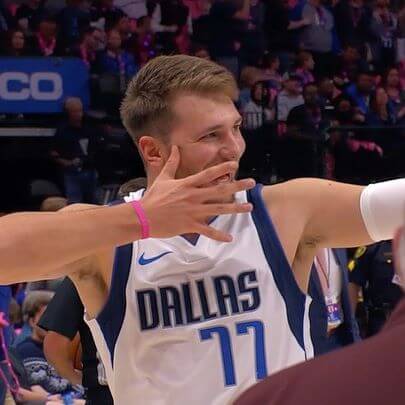 Projection – Will miss the playoffs
Last season the Mavericks said goodbye to Dirk Nowitzki, the greatest player in franchise history. In his final season, there was a passing of the torch to rookie phenom Luka Doncic who was deservedly crowned as the Rookie of the Year in 2018 – 2019. Add in 7ft3 inch monster Kristaps Porzingis who has ball-handling ability, with a compliment of solid shooters including Seth Curry – who returns after a successful stint in Portland – and a very good head coach in Rick Carlisle, it's no wonder there is optimism in Dallas as the Mavericks enter the dawn of a new era. In a tough Western Conference, they'll be vying for one of the last spots to make the Playoffs.
Denver Nuggets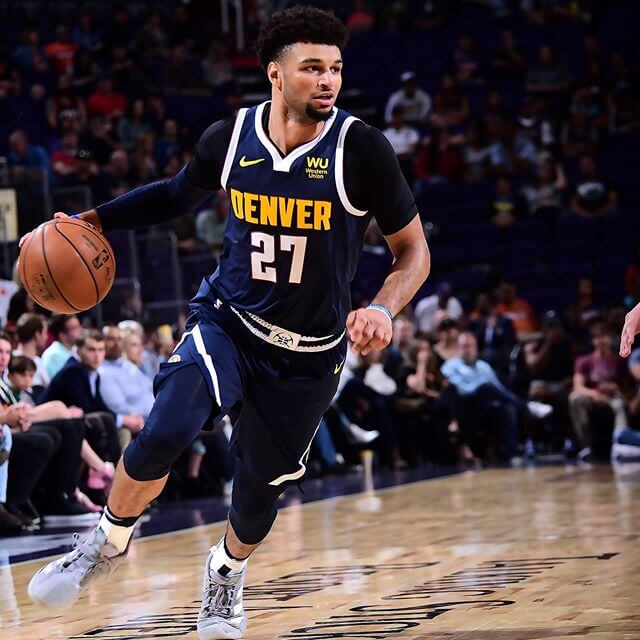 Projection – Championship contender
Nicola Jokic and Jamal Murray are the real deal. To many the duo came out of nowhere,  leading the Nuggets to a 54 – 28 record and finishing second only to Golden State in the minefield that is the Western Conference. After being one win away from reaching the Western Conference finals, Denver will be looking to take the next step in the coming season. With no significant departures and the arrival of Jerami Grant an efficient role player who spent the past few seasons with OKC, the Nuggets have high hopes of being a factor again in a playoff race that's likely to come down to the wire.
Detroit Pistons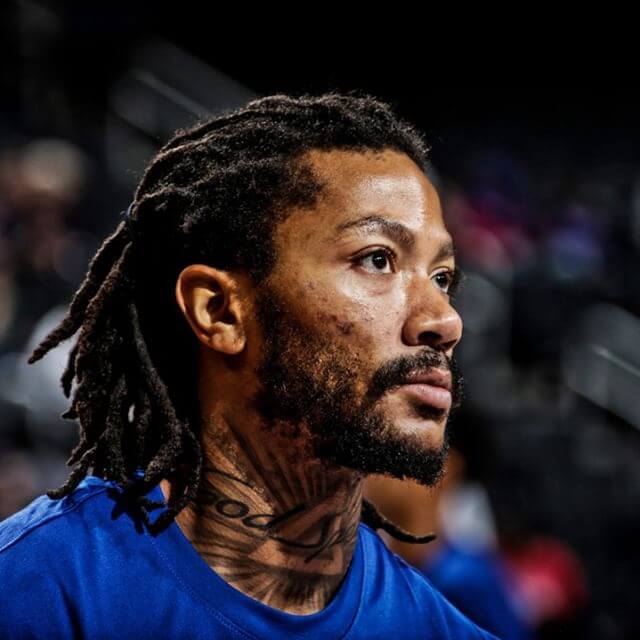 Projection – Will miss the playoffs
The Pistons barely made the playoffs after sneaking in through the back door in a far weaker Eastern Conference. Blake Griffin had somewhat of a resurgence, by putting up 24.5 points, 7.5 rebounds and 5.4 assists per game. Those numbers earned him All-Star honors once again, but he broke down towards the end of the season and had to undergo surgery in the Summer. Derrick Rose, while showing flashes at times is a shell of his former MVP self. Rose along with hard-nosed Markieff Morris are nice additions to the team but aren't expected to make any life-changing impact. They'll be fighting for one of the final playoff spots once more and if they manage to squeeze in for the second year in a row, they will likely be sent packing again in the first round.
Golden State Warriors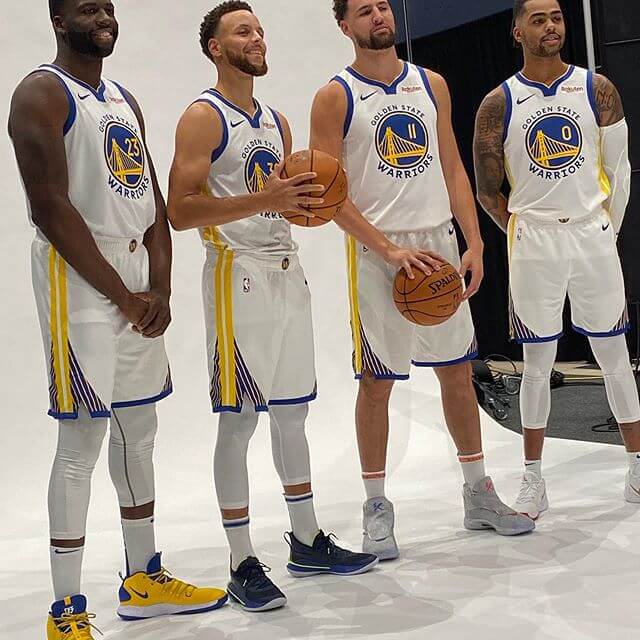 Projection – Championship contender
Don't sleep on the Warriors! With the departure of Kevin Durant that left GM Bob Myers shedding invisible tears when questioned about the team's decision to rush him back from a calf strain that ended up in an Achilles rupture, Golden State will be desperate to show that they're still legitimate contenders without him. They still have a former unanimous MVP in Steph Curry. His splash brother Klay Thompson one of the most underrated players in the league will be back from injury late in the season. Versatile point forward Draymond Green is still in the building and they've added a talented All-Star in D'Angelo Russell. The Warriors will also be looking to make a statement as they enter their brand new arena in San Fransisco for the 2019 – 2020 season.
Houston Rockets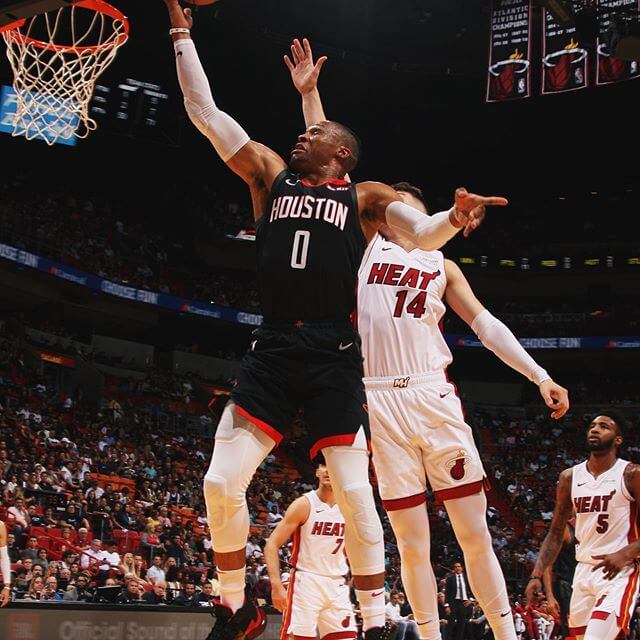 Projection – Championship contender
Mike D'Antoni is an offensive genius. If anyone can get 2 supremely talented, but ball-dominant players in James Harden and Russell Westbrook to mesh on the court, he can! With Harden coming off a year where he averaged 36 points per game, Westbrook continuing his triple-double streak for the 3rd straight season and the rest of the pieces from their 2 most recent playoff runs (both ended by the Warriors) still intact, the Rockets could be the dark horse in a loaded Western Conference that is as wide open as it's been in years.
Indiana Pacers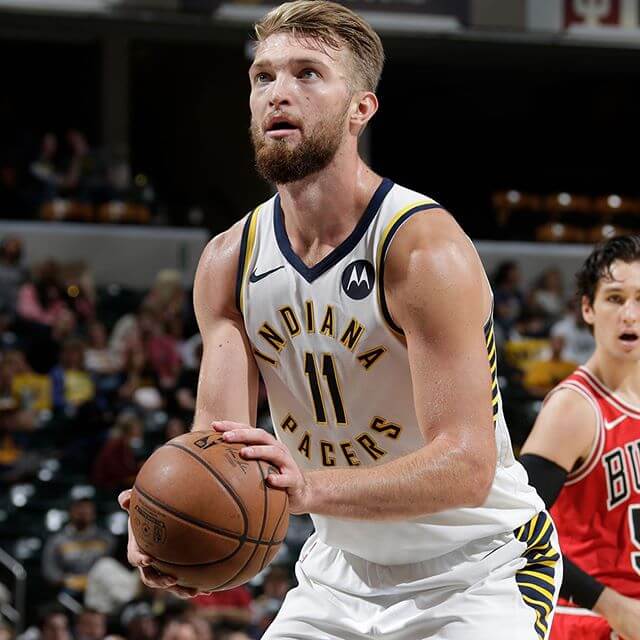 Projection – A playoff team
After Victor Oladipo went down with a devastating leg injury in the middle of the 2018 – 2019 season, the Pacers were expected to fold. Instead, they rallied and ended up with a 48 – 34 record, earning them the 5th seed and a spot in the Eastern Conference playoffs. Myles Turner is expected to take another step forward in his development, Oladipo will return mid-way through the season and there are 4 new free agents including Jeremy Lamb and Malcolm Brogdon that have entered the fray. This should see the Pacers comfortably making the playoffs again in 2019 – 2020.
Los Angeles Clippers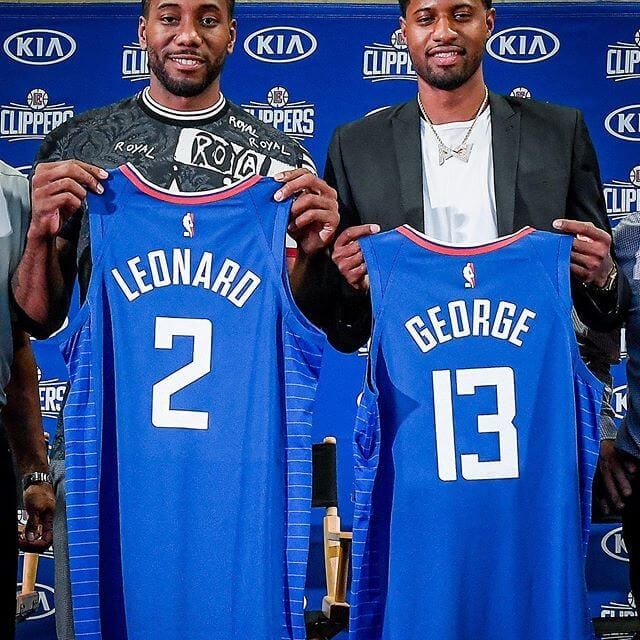 Projection – Championship contender
The Clippers not only made the playoffs last year, but they also put on a valiant display – something that is typical of any Doc Rivers led team – eventually falling in 6 games to the Warriors. This wasn't before taking two games from the then champs in their own arena though. The Summer saw them land a haul of superstars that play both ways in Kawhi Leonard and Paul George. Leonard is coming off a season where he led the Raptors to their first championship in franchise history and was named finals MVP. PG earned a nomination for the league MVP award following a stellar individual season with OKC. Lou Williams is arguably the best 6th man in the NBA. Patrick Beverly is an absolute nightmare on the defensive end. With all that talent, he chips are in place to make a deep run in the playoffs in 2019 – 2020.
Los Angeles Lakers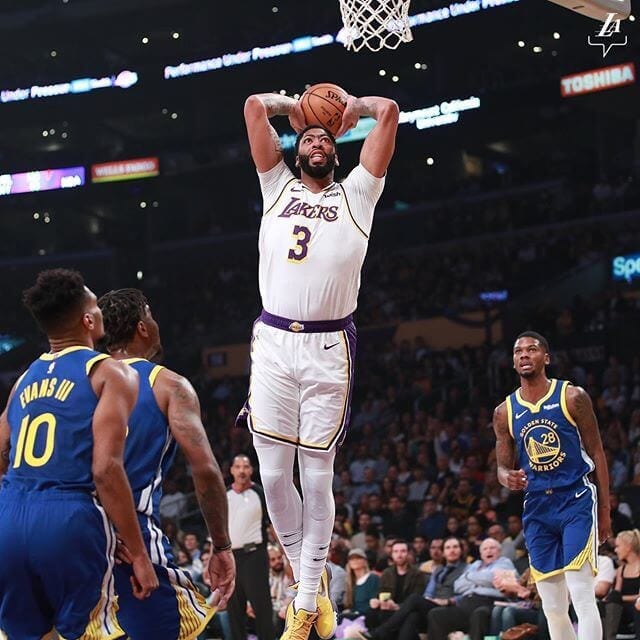 Projection – Championship contender
Lebron James suffered a rare injury in his 16th NBA season. He is only human after all. That injury derailed the Lakers who were 20 – 14, which was good for a comfortable playoff spot until that point in the season. Come April their hopes of making the playoffs for the first time in 6 years were over. Anthony Davis' arrival in the Summer after forcing his way out of New Orleans, will see the Lakers take a giant leap that instantly makes them a contender. After managing to hold onto their young playmaker Kyle Kuzma in the Davis trade and adding Avery Bradley, Danny Green, Jared Dudley, and Dwight Howard, this is a veteran team that is now one of the front runners to win it all this coming season.
Memphis Grizzlies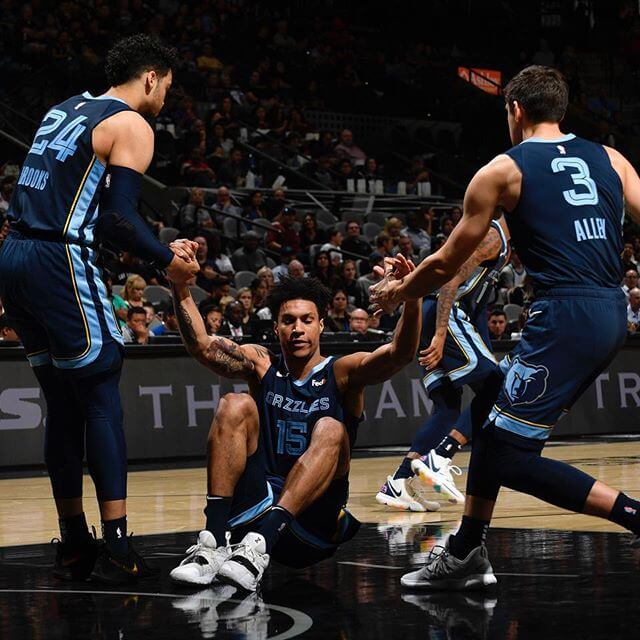 Projection – Will miss the playoffs
The Grizzlies are reconstructing for the future. Ja Morant, taken 2nd overall in the 2019 NBA draft is touted as a franchise player that Memphis looks set to build around. This new direction is a stark contrast to their physical inside-out style that was embodied by big men Zach Randolph and Marc Gasol for so long. Mike Conley, another constant for the better part of the past decade was the last of that old guard to leave this summer. In a busy offseason that saw them reshuffle their front office and accumulate young talent, the Grizzlies won't be a factor in 2019 – 2020 but are positioning themselves to become a playoff team again in a few years.
Miami Heat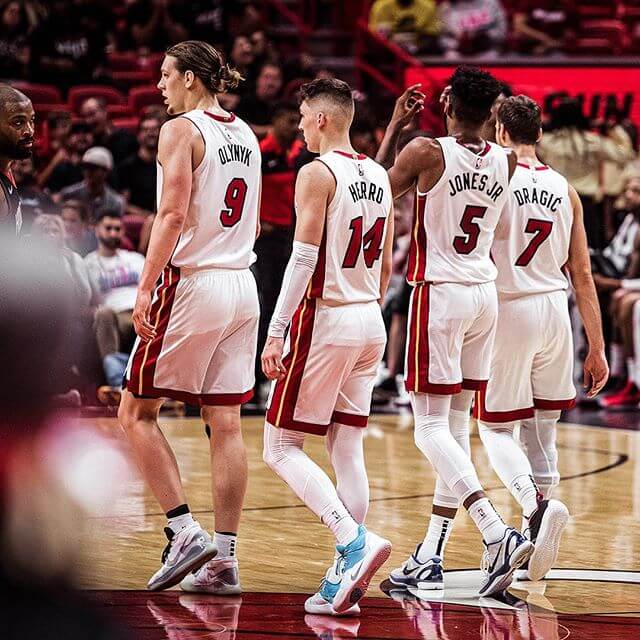 Projection – A playoff team
Miami said goodbye to Heat legend and 3-time champion Dwayne Wade at the end of a 2018 -2019 season that saw the team finish 10th in the East and miss out on the playoffs. This past offseason they acquired Jimmy Butler, a high-level two-way player in the league via sign and trade to replace him. His toughness and veteran leadership will be an asset to a young locker room that will be looking to at least make it to the dance this coming season in the weaker Eastern Conference.
Milwaukee Bucks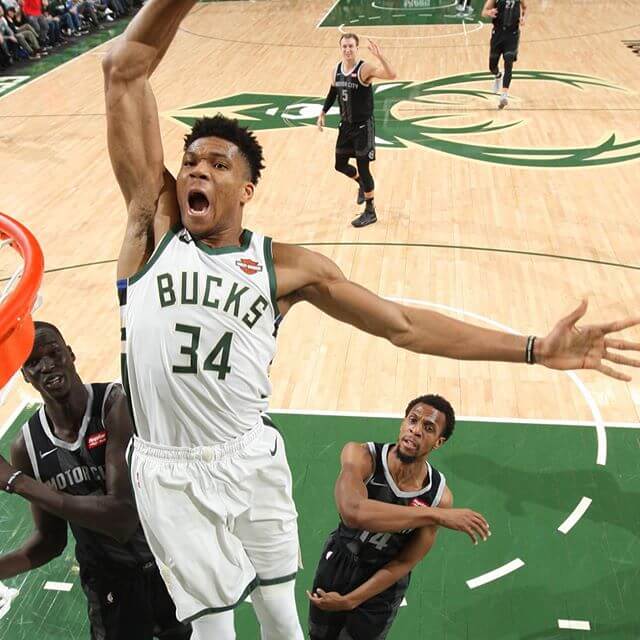 Projection – Championship contender
Their playoff defeat to the Toronto Raptors in the Eastern Conference finals would have left a sour taste in their mouths after finishing the regular season with the best record in basketball and home-court advantage throughout the duration of the postseason. Reigning league MVP Giannis Antetokounmpo will be chomping at the bit to show that he has developed his game after being outplayed by Kawhi Leonard in that fateful series. Khris Middleton got his contract extension, which keeps the core intact. With the departure of Leonard from the Raptors, the Bucks will feel that the Philadelphia 76ers are the only thing stopping them from making their long-awaited return to the NBA finals after a 45-year absence from the big stage.
Minnesota Timberwolves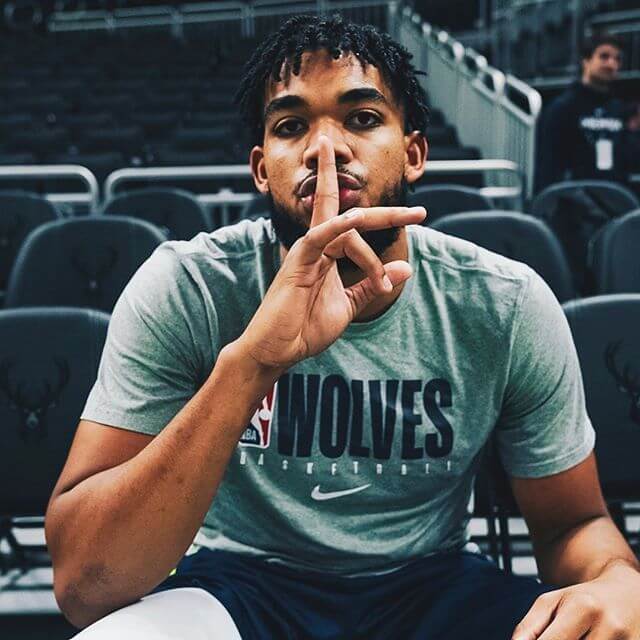 Projection – Will miss the playoffs
The Timberwolves are one of those franchises that can never seem to quite put it all together. They've made the playoffs just once (in 2017 – 2018) in the last 15 years. That year they snuck in with an 8th seed and were cast aside in 5 games by the Houston Rockets. Last year they were back to their old ways, missing out yet again. In Andrew Wiggins and Karl-Anthony Towns, they believed they finally had the building blocks on which to develop a consistent playoff team. While the latter made the All-Star team last year, Andrew Wiggins took a few steps backward. This has observers wondering whether that big deal approaching $150 million over 5 years he was signed to just a year prior is already coming back to haunt them. With no significant moves made in the offseason, it's all set up for business as usual. They'll be on the outside looking in.
New Orleans Pelicans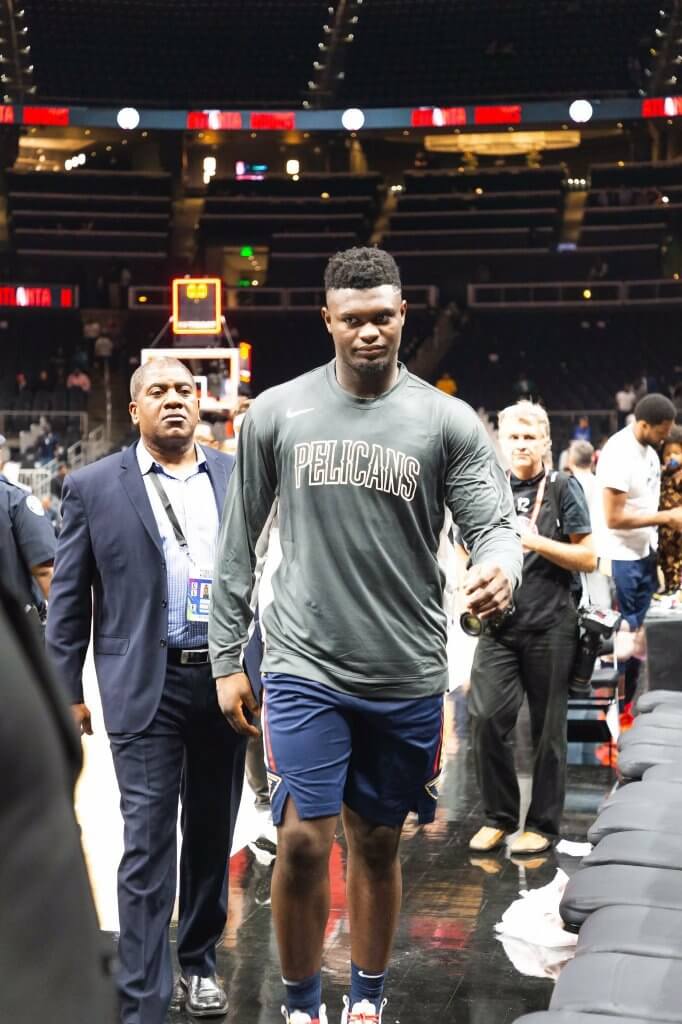 Projection – Will miss the playoffs
All the excitement surrounding #1 overall pick Zion Williamson, will have to be put on hold for at least a few weeks as the young sensation is set to miss the beginning of the season due to a minor knee injury. This is sure to be an up-tempo team that plays an attractive style of basketball upon his return. The additions of Lonzo Ball, Brandon Ingram, Derrick Favors, and ever-reliable sharpshooter JJ Redick, allow the Pelicans to seamlessly turn the chapter on an Anthony Davis stint that ended with the star demanding a trade to Los Angeles. New Orleans will feel good about their haul if this young team can mature quickly and become competitive again in the West after only managing to win one playoff series throughout Davis' tenure.
New York Knicks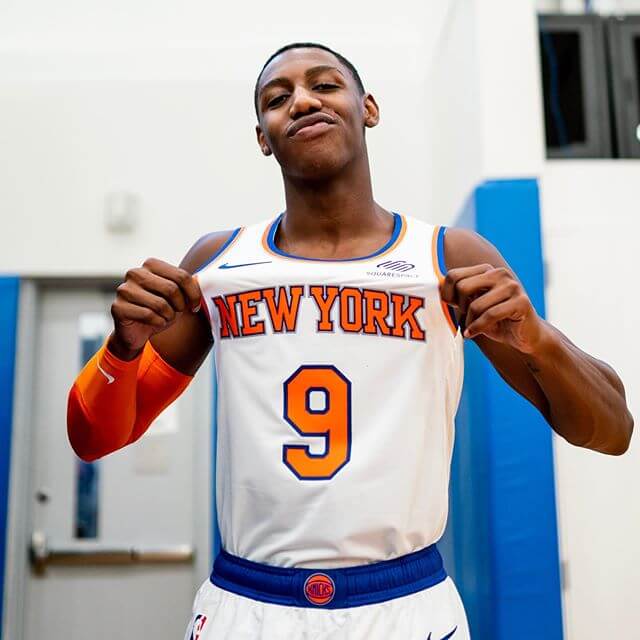 Projection – Will miss the playoffs
For such a storied franchise, the Knicks have been in free fall for far too long. In 20 years New York has only made it past the first round in the playoffs once. RJ Barret is a bright spot. Selected 3rd overall out of Duke, he's already shown glimpses of why some scouts believed his game would transition better into the league over college teammate Zion Williamson. Dysfunction has become the norm in NYC though and they carried on this trend with some eyebrow-raising deals in the offseason. Stock-piling a number of forwards that all have similar skillsets is a head-scratcher. Maybe they have some strategic foresight that everyone else is yet to realize. Maybe they'll be a bad team again and miss the playoffs for the 7th year in a row in 2019 – 2020.
Oklahoma City Thunder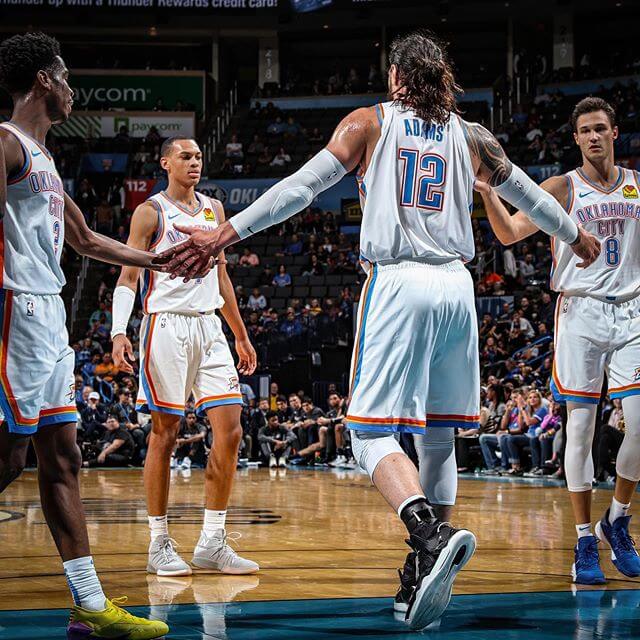 Projection – Will miss the playoffs
Once home to 3 future MVPs and undoubted Hall of Famers in Kevin Durant, Russell Westbrook and James Harden, in addition to the consistent presence of Serge Ibaka in Defensive Player of the Year voting, you can't help but wonder where It all went wrong for OKC. The last of that era – Russ – was traded to Houston this past offseason after Paul George sent shock waves around the league by requesting a trade to team up with Kawhi Leonard at the Clippers. OKC received an aging Chris Paul and some draft picks in the deal, as they now look to rebuild for the future. In a stacked Western conference it'll be a long shot to make the playoffs after being knocked out in the first round each of the past 3 seasons.
Orlando Magic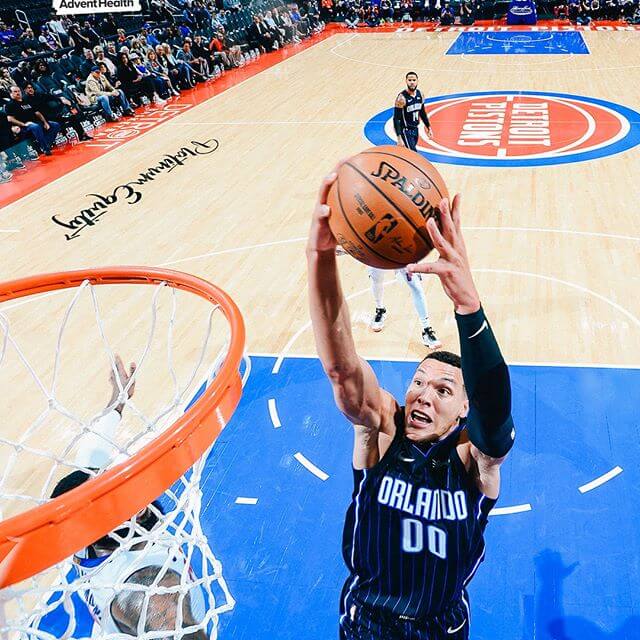 Projection – A playoff team
Orlando was a playoff team last year. For a franchise that's made a habit of failing to hold on to their best player in the past (Shaquille O-neal, Tracy McGrady, Dwight Howard), it would have come as a boost that they were able to bring back talented big man Nikola Vucevic. While he's not the caliber of player those former stars were, he's coming off a season where he made the All-Star team for the first time and is undoubtedly the team's most talented individual. John Ross and Aaron Gordon are two other notable contributors who will keep the Magic in and around the playoffs again.
Philadelphia 76ers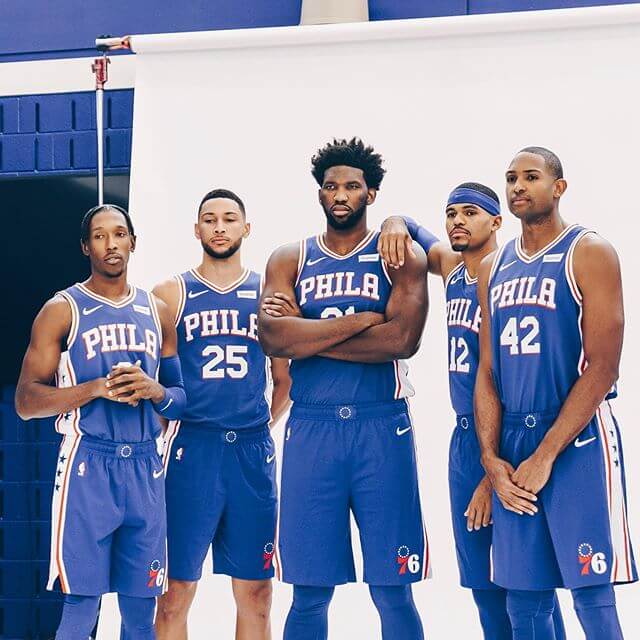 Projection – Championship contender
The lasting image from a good season in Philadelphia was Joel Embiid walking to the locker room in tears after a brutal game 7 loss in the Eastern Conference semifinals. This summer they re-signed Tobias Harris and added Al Horford and Josh Richardson. If Ben Simmons can develop any type of shooting ability outside the paint, the entire floor will open up. That shooting threat alone would instantly make Philly the most dangerous team in the East – they have that many weapons. The Process has 2 more steps to make it to the promised land. Anything less than an Eastern Conference final berth will be considered a failure. 2019 – 2020 will be telling.
Phoenix Suns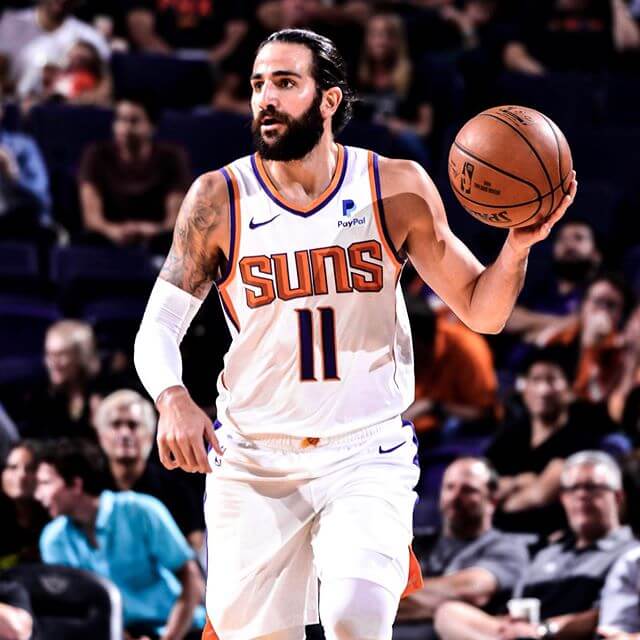 Projection – Will miss the playoffs
The one shining light in Phoenix over the past few years is Devin Booker – and he shines bright! The Suns have missed the playoffs for nine straight seasons, finishing dead last in the West on four separate occasions. In the meanwhile, Booker has been putting up numbers. Last season he averaged 26.6 points on nearly 46.7% shooting from the field. Deandre Ayton enters his second season and showed that he can be a viable option if he continues to develop. Other than that there isn't too much to rave about. They'll miss the playoffs for a tenth straight year.
Portland Trailblazers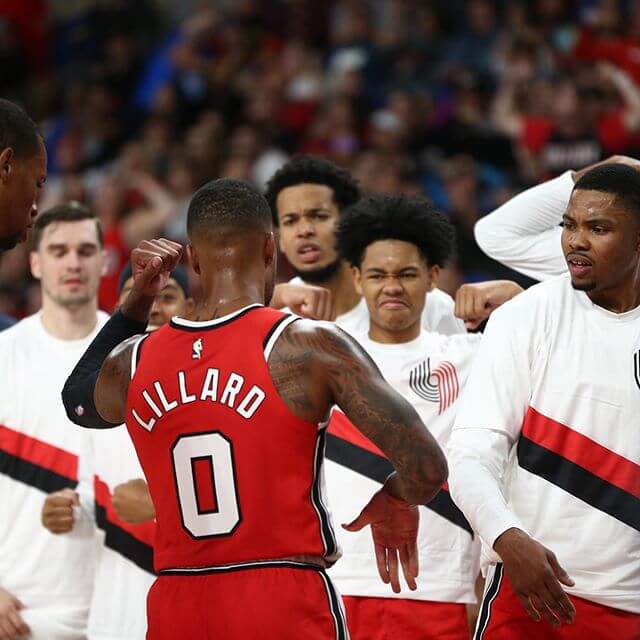 Projection – Championship contender
Damian Lillard's 37-foot buzzer-beater over Paul George didn't only eliminate OKC, it dismantled the team – literally. Portland made it all the way to the Western Conference finals before getting swept by the Golden State Warriors. This offseason they extended Lillard and his co-start CJ McCollum and strengthened the team with a few nice pick-ups in free agency. Behind one of the best backcourts in the league, the Blazers will be looking to make another push in the postseason this coming year.
Sacramento Kings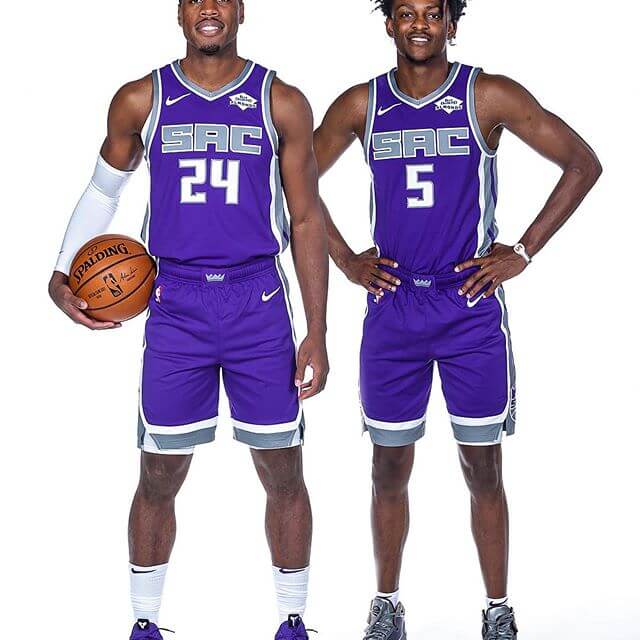 Projection – Will miss the playoffs
Sacramento finished one place outside the playoffs in ninth – all be it, nine games behind the eighth-placed Clippers. Regardless, it was a good season by their recent standards and they'll be looking to kick on from last year's outing to make a real push for the postseason in 2019 – 2020. In Buddy Hield and De'Aaron Fox, they have a dynamic young backcourt. Marvin Bagley III, picked second overall in the 2018 draft is poised to have a breakout season and sixth man Bogdan Bogdanovic is a solid contributor off the bench. The Kings will be in the fight for one of those coveted playoff spots out West.
San Antonio Spurs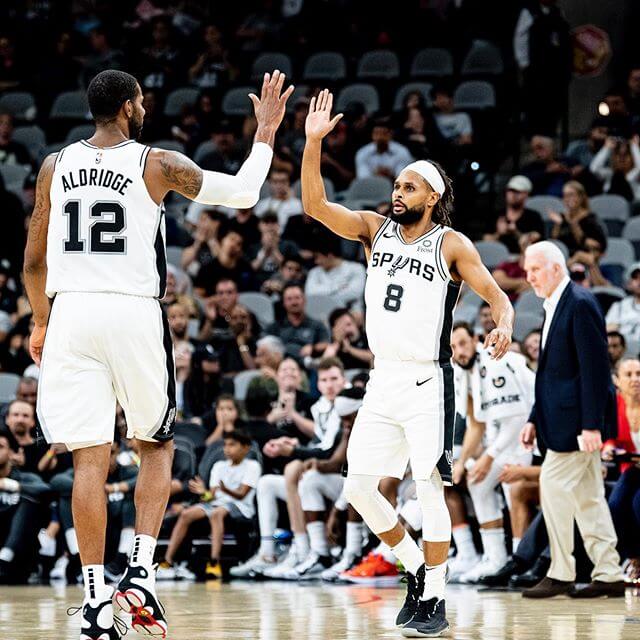 Projection – A playoff team
The San Antonio Spurs are a model of consistency. In Greg Popovich, they have an all-time great coach with 5 NBA titles. He really knows how to squeeze out every bit of ability from his players. There is no more Tim Duncan, Tony Parker, and Manu Ginobili but still, the Spurs made their way to a 22nd consecutive postseason last year. Led by LaMarcus Aldridge and DeMar DeRozan San Antonio won 48 games. As always they had a reliable cast of role players, who carried out their job descriptions to a high standard on a nightly basis. With a couple of young players also returning from injury this season, the Spurs will be in the playoffs for the 23rd year in a row.
Toronto Raptors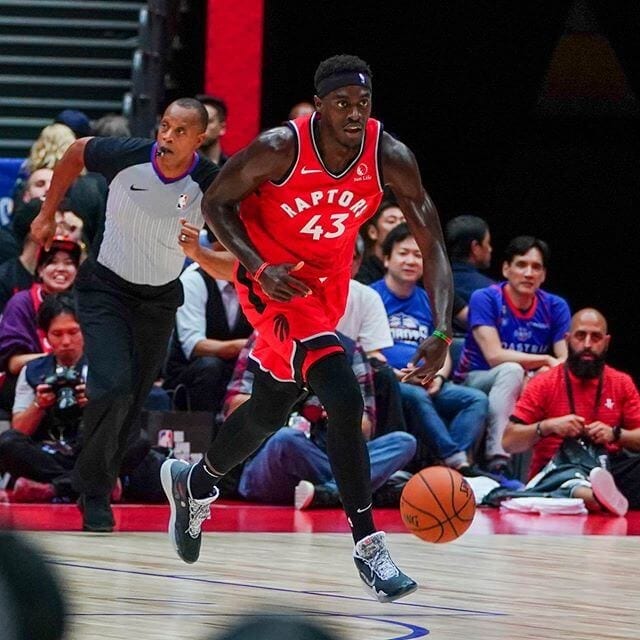 Projection – Championship contender
When Fred Vanvleet was asked this offseason, how the Raptors would fair if Kawhi Leonard left Toronto for one of his home town teams in LA, he was quoted as saying "we'll just have to kick his a**". While it was definitely a tongue-in-cheek statement at the time, Kawhi really did return home and now it's time to pay the piper. The reigning champs will begin the defense of their title with the full complement of last season's roster minus Leonard and Green. Yes, Leonard was undoubtedly their best player and leader but there were enormous contributions from Pascal Siakam, Kyle Lowry, Serge Ibaka, and Fred Vanvleet among others. The plan is for Siakam to take the reins and pick up where Leonard left off. With his raw ability on both ends of the floor any progress from last season will see him lead The North through another playoff run in the top-heavy Eastern Conference.
Utah Jazz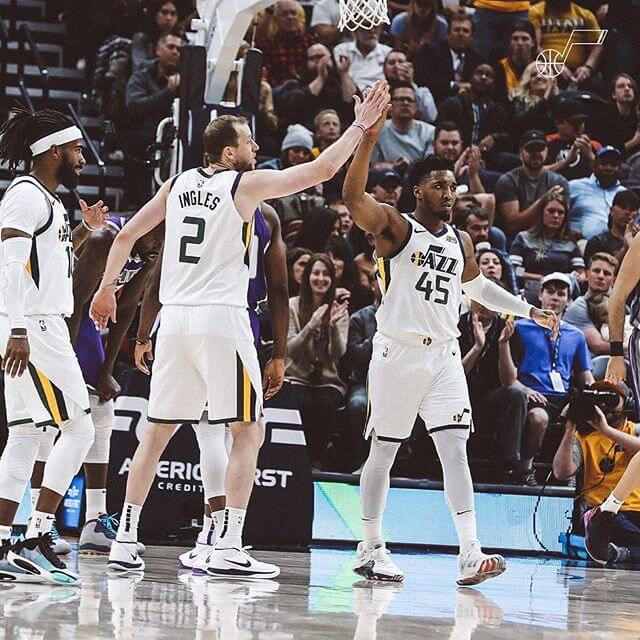 Projection – Championship contender
The Jazz had a 50 win season in 2018 – 2019. That is no mean feat in the much stronger West. After adding Mike Conley and Bojan Bogdanovic to an established core of Donovan Mitchell and Rudy Gobert, Utah could make the kind of noise that will make the other top teams take notice. Conley, in particular, brings veteran leadership, playoff experience and consistent scoring which will help take some pressure off rising star Mitchell who didn't make the expected jump in his sophomore season. The Jazz will be in the thick of the Western Conference race.
Washington Wizards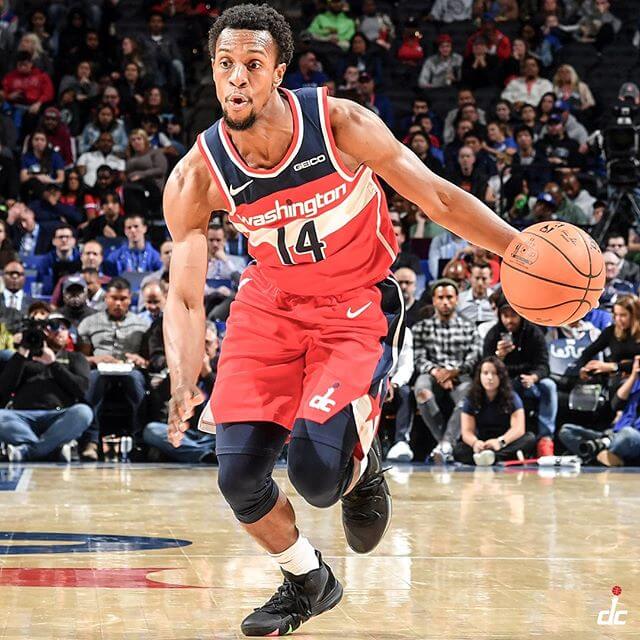 Projection – Will miss the playoffs
Major injuries to John Wall have thrown a spanner in the works of a Washington team that had one of the best backcourts in the league. Bradley Beal did everything he could last season averaging career highs in points, rebounds, assists, steals, and blocks, but didn't receive much help from elsewhere. As such the Wizards were well out of the playoffs and with John Wall expected to miss most if not all of the 2019 – 2020 season, it's likely to be more of the same.
—-
Check back throughout the season for team updates and further analysis.